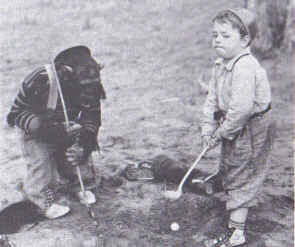 Length: Two Reel
Producer: Hal Roach
Director: Robert F. McGowan
Photography: Francis Corby
Editor: Louis McManus
Titles: None
Writer:
Released: February 8, 1936
Studio: M-G-M

Main Cast
Supporting Cast
The Short
Plot: The gang has somewhow managed to get out on to the greens at the Greenpoint Country Club and Golf Course. Buckwheat is the caddy for Spanky and Darla. When Spanky gets caught in a sand trap, he checks to see if anyone is watching, and then throws the golf ball out by hand. Porky is the caddy for Alfalfa, recording zeroes for each of Alfalfa's swipes at the ball in the sand trap. When he finally hits it, Porky knocks it into the hole with a shot from his pea shooter. Meanwhile, the caddies walk off the job in protest of their low rates, and in desperation the caddymaster recuits the gang to fill in for the day. The gang's skills as replacement caddies are a detriment to the real golfers even as their pet chimp breaks one player's clubs, takes over the tractor used to mow the course, and wreaks terror on the grounds. A fence ends up being destroyed with the gang riding a section of it down hill amidst several terrified golfers.
Quotes: None
Notes/Trivia:
This was the first short to feature Darla Jean Hood portraying the role of Darla.
For this short and a few others, Darla has blonde hair because Darla Jean Hood had just wrapped filming "The Bohemian Girl" with Oliver Hardy and Stan Laurel where she played the younger version of a character played by actress Jacqueline Wells (a role which was originally given to Thelma Todd before her death). Years later, Darla recalls meeting Shirley Temple (a rejected Our Gang hopeful) at Westmore's Beauty Salon in Hollywood.

This was the last short directed by Robert F. McGowan.

Hal Roach used to go golfing with Robert F. McGowan and Oliver Hardy. As adults, George McFarland and Matthew Beard would take up golfing as well.

This film is exceptionally short for a two-reeler, running only fourteen and a half minutes.

Sequence
---