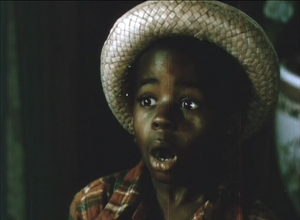 Profile
Name:
Nickname: Dis
Played By: Rene Beard
Born: 1941
Relatives: Dat (brother)
First Short: Curley
Last Short: Who Killed Doc Robbin

Character
Bio: Dis is a little boy that lives in Greenpoint with his brother Dat. He and his brother do not attend Lakeview School with Curley and his gang. In Curley, they take a particular interest in Curley's 'rocket ship' car. When nobody is around, they finally find a chance to take a ride in the car, not realizing that Curley loaded it with extra 'rockets'. A speedy, dangerous ride through the countryside results. Later, the two follow Curley and the gang as they try to figure out Doctor Robbin's alleged murder in Who Killed Doc Robbin.

Quotes:
Trivia
Community content is available under
CC-BY-SA
unless otherwise noted.