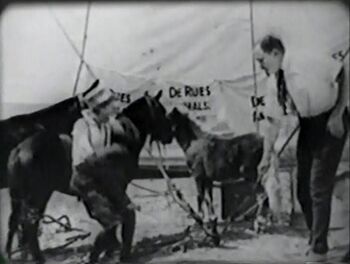 Bio
De Rues is a traveling animal carnival that passes through Greenpoint "just two jumps ahead of the last feed bill." It's owned and run by Mr. De Rues assisted by a boy who refers to himself as "Muggsy" as his assistant. After Muggsy is sent to exercise two of the ponies, he meets Mickey Daniels, Booker T., Joe Cobb and the rest of the gang, impressing them with the pony's tricks that they decide to form their own animal circus after De Rues' guard stops them from sneaking in to see the show.

Mr. De Rues was played by Roy Brooks (mistakenly identified as Lincoln Stedman by Maltin and Bann). His guard was played by Dick Gilbert.

Shorts
---
Community content is available under
CC-BY-SA
unless otherwise noted.