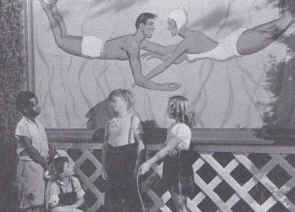 Production Notes
Length: One Reel
Producer: Cyril Endfield
Director: Cyril Endfield
Photography: Jackson Rose
Editor: Leon Bourgeou
Titles: None
Writer: Hal Law and Robert A. McGowan
Released: April 29, 1944
Studio: M-G-M

Main Cast
Supporting Cast
The Short
Plot: Froggy has a crush on a young girl named Marilyn, who is too preoccupied with her budding career as a dancer to pay Froggy attention. When the gang attends one of Marilyn's recitals, Froggy finds himself insanely jealous of Marilyn's dancing partner Gerald, whom he sees as a rival for Marilyn's affections.
A few days later, Froggy holds a dance recital of his own, hoping ot impress Marilyn. His seemingly gravity-defying moves are accomplished with the help of Mickey, and Buckwheat, who have rigged their pal up with wires to control his movements via a pulley. Gerald exposes this artifice, hoping to embarrass Froggy. Marilyn, however, is impressed by Froggy's determination, and tells him she loves him - only to have the deep-voiced boy faint dead away.
Quotes:
Notes/Trivia:
"Dancing Romeo" was the final film to be filmed and released in the twenty-two year Our Gang canon. Its antecedent on the release schedule, Tale Of A Dog, is sometimes considered the final film in the series, as it has a later production number (#2866 versus Dancing Romeo's production #2861) and began pre-production.

Hal Roach, who created and produced Our Gang until selling the series to MGM in 1938, would revive the Our Gang concept for a pair of late-1940s features, "Curley" and "Who Killed Doc Robbin" (1948). An Our Gang true revival, however, would come with the syndication of the Roach-produced shorts to television as "The Little Rascals," leading to its renewed popularity from the 1950s.
Sequence
---
Community content is available under
CC-BY-SA
unless otherwise noted.