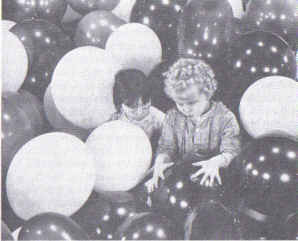 Production Notes
Length: Two Reel
Producer: Robert F. McGowan
Director: Robert F. McGowan
Photography: Art Lloyd
Editor: Richard Currier
Titles: H. M. Walker
Writer: Hal Roach
Released: June 2, 1928
Studio: M-G-M

Main Cast
Ben Parson
Eugene Pearson
William Ulmer
Supporting Cast
Charles A. Bachman - Police Officer
Ed Brandenberg - Workman
Eric Mayne - Father's Friend
F. F. Guenste - The Butler
Joseph M. Giraud - Jean's Father
May Wallace - Jean's Mother
The Short
Plot: Little heiress Jean Darling is looking for someone to spend time with her when she sees the gang outside her window and invites them in for a party. Her father has wired the house with practical jokes such as an electrified piano bench and rubber hot dogs. Her neighbor, Percy, leads the gang through the booby-trapped house, setting the traps off along the way. The gang finally gets wise and beats him up, but Wheezer sets off the burglar alarm and the police rush to catch the intruders, just in time as Wheezer sets off another booby trap that fills the house with falling balloons to allow the kids to escape.

Quotes:
"This etiquette I got don't taste so good." - Jackie

Notes/Trivia:
Sequence
---
Community content is available under
CC-BY-SA
unless otherwise noted.