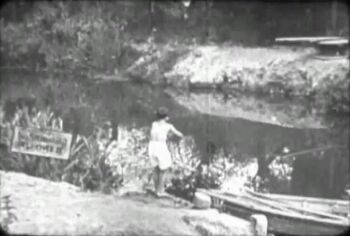 Bio
Coogan Lake is a lake located somewhere close to Greenpoint, the hometown of the Little Rascals.The lake is the location where Joe and Farina claimed that they tossed a local bully, Tuffy, after beating him up, which actually turns out to be a lie. Coincidentally, Tuffy swims in the lake to wash up after he stumbles over a fence near the lake while carrying a pie. The lake has a "No Swimming" sign, and a farmer shoots a rifle near Tuffy, causing him to swim away and leave his berry-stained clothes behind. When the clothes are found, he is thought to have been murdered and his body thrown into the lake, which causes Joe and Farina much anxiety when their story appears to have started coming true and leading to them being accused of murder.

Coogan Lake was possibly named after Jackie Coogan, a famous Silent Film child star, who enjoyed greater popularity on TV playing "Uncle Fester" on TV's The Addams Family. Because of the loss of his fortune as a child actor, he helped create "Coogan's Law," which helped place the salaries of other child actors in to a bank fund to be held for them until they became adults.
Episodes
---
Community content is available under
CC-BY-SA
unless otherwise noted.