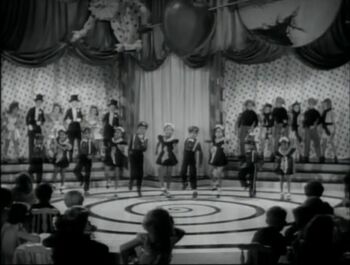 Bio
Club Spanky is the fictional nightclub location of one of Alfalfa Switzer's dreams set in an alternate future of 1958. Convinced he's destined to be a great opera star, Alfalfa dozes off in a big chair near the back door of Spanky's cellar during the production of the Our Gang Follies Of 1938. He dreams it's twenty years later and the Greenpoint Opera House has been promoting him as the next major opera talent. With Porky as his assistant, he takes the stage singing "The Barber Of Seville," but his less-than-stellar performance has him tossed out into the street by the impresario Barnaby, now a sinister and malacious grey-haired old man. Forced to sing in the street just as it starts snowing, Alfalfa has no choice but to perform at the curb for spare change dragging Porky along with him as his only follower.
Meanwhile, Spanky McFarland has gone on to great success as a nightclub owner with Darla Hood as his main star and "The King Of Swing," "Cab Buckwheat" as his orchestra leader. All of them are making "hundreds and thousands of dollars." The nightclub serves sugar confectionaries of ice cream cones, sodas and sundaes with jelly beans. The waiters include Richard Severn, Roger McGee and Bill Cody Jr.. The check girls are Jana Ekelund and Spanky's little sister, Baby Patsy, now grown up. Buckwheat's band of swing includes Big Shot Jones, Clarence Calvert, Cullen Morris, Alvin Morris, Sherrill Luke, Pauline James, Dan Mabry, Beverly Thomas and Lorraine Long.
Darla's main act is "The Love Bug" number in which Porky joins in, but even cajoled by Spanky, Alfalfa won't return to crooning as he did as a kid. In the act, Darla sparks romance with Porky and Sylvia Johnson, Buckwheat apart from his band duties with Jo Ann Thomas, and Georgia Jean LaRue with Philip MacMahon as the whole number crescendoes into "The Wedding March." By now, Spanky and everyone finally convince Alfalfa to return to crooning, and he relents, but as he takes the stage, the previously distracted Barnaby suddenly appears and looms into view laughing and trying to drag the resistant Alfalfa back into the cold dark streets.
At that moment, Alfalfa wakes up and realizes he doesn't want a future left out from his friends. Tearing up the (fake) contract he received earlier, he joins Spanky, Darla and Porky on stage in Spanky's cellar to sing Bing Crosby's "Learn To Croon" off-key.

Shorts
---
Community content is available under
CC-BY-SA
unless otherwise noted.