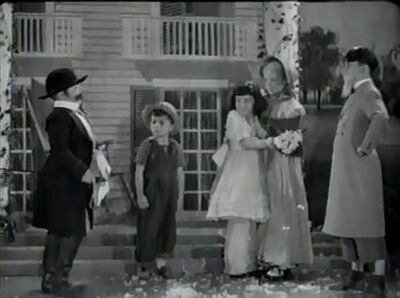 Production Notes
Length: One Reel
Producer: Jack Chertok
Director: Edward Cahn
Photography: Robert Pittack
Editor: Roy Brickner
Titles:
Writer: Robert A. McGowan and Hal Law
Released: September 9, 1939
Studio: M-G-M

Main Cast
Supporting Cast
Buddy Bowles - Violinist
Clyde Willson - Card-Changer
George Crosby - Darla's Dance Partner
Spencer Quinn (unconfirmed)
Tim Davis - Spectator
The Short
Plot: Spanky is putting on another big show for the neighborhood called "Out In The Snow You Go" with "speshul" permission of Spanky's Uncle. It's a loose adaptation of Uncle Tom's Cabin with Spanky as a Simon LeGree-type character and Alfalfa in white whiskers as the plantation owner who is behind in the rent. Darla plays the daughter with Alfalfa racing his horse "Grey Beauty" against Spanky's "Black Satan" using stage devices a bit too clever for the Rascals. The horse race is to determine whether Spanky's character will marry Darla's, or Spanky will burn the mortgage deed to the plantation.  Darla and Alfalfa also sing songs, but Butch wants to be a part of the show for a change, even if it involves masterminding an accident to eliminate Alfalfa to replace him. He unplugs the player piano to Alfalfa's song, and as Spanky fixes that, Butch cuts a rope to drop a chandelier onto Alfalfa's head, but he cuts the wrong rope and gets pelted by a sandbag he didn't see, allowing Alfalfa to finish his song in peace.
Quotes:
Notes/Trivia:
This short is basically a rehash of Uncle Tom's Uncle and Spanky.

This is the last episode in which Sidney Kibrick appears as Butch's sidekick, Woim. He will appear in one more episode in the series.
The title was reused, though slightly modified, as Cap'n Spanky's Showboat in the 1980s animated series, albeit with a completely different storyline.
Sequence
---
Community content is available under
CC-BY-SA
unless otherwise noted.