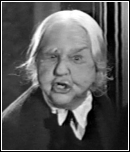 Bio
Cap's wife is the old, ugly, unnamed child-hating woman married to Old Cap and running the Bleak Hill Boarding School like a prison. She is the cook and housekeeper of the boarding school and saves money on food by serving mush every day for breakfast and barely turning on the heat at night, if she turns it on at all. In contrast to her friendly but dominated husband, only known to the kids as "Old Cap" (they have a rather estranged marriage and she ridicules him), she is a sadistic and merciless person who threats the childrens with beating if they do something wrong. After Mr. Brown at the bank finally gives Cap his pension, he spends it on the kids taking them to an amusement park and then dining at a fancy French restaurant. Cap's wife is not with them so it's possible that Cap probably separated from her and took the children with him.
Cap's wife was played by Louise Emmons (1852/1861-1935), a German-born actress who specialized in playing old hags in nearly 70 movies between 1914 and 1935. This character was mentioned by the LHC Our Gang Page as the "nastiest, ugliest, most frightening "Our Gang" villain ever, forever screaming like a witch and threatening to thrash the kids with her whip."
Shorts
---
Community content is available under
CC-BY-SA
unless otherwise noted.