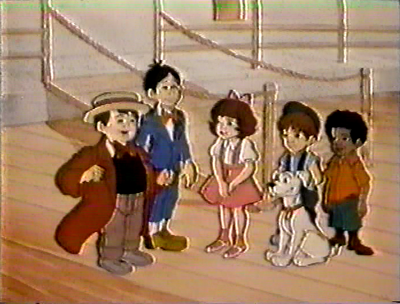 Production Notes
Length: Eleven Minutes
Producer: Oscar Dufau, William Hanna, and Joseph Barbera
Director: Unrevealed
Writer: Unrevealed
Released: November 20, 1982
Studio: Hanna-Barbera Productions and King World Productions

Main Cast
The Short
Plot: The Rascals are anxious to take a ride on an old riverboat, the Mississippi Queen. Smokey, the ship's former captain, has quit his duties since business has gone down. Spanky and the rest of the Gang clean up the boat in order to raise Captain Smokey's spirits. There is just one problem: the engine won't start. Buckwheat and Porky notice another boat nearby. They row to it in a small rowboat, but the current takes them off course and towards a waterfall. It's up to Captain Smokey to save the day.
Quotes:
Spanky - "Are you okay, pal?"
Alfalfa - "Yeah... what happened?"
Darla - "I'll tell you what happened! You threw dirt out all over my nice clean deck!"
Alfalfa - "Gosh... I'm sorry, Darla..."
Darla - ""Sorry" doesn't scrub the deck, but you will!  Get to work!"
Alfalfa - "Oh... a man's work is never done!
Notes/Trivia:
Originally aired with Case Of The Puzzled Pals and Go Cart Go.
Though unconfirmed, it may be possible that Captain Smokey's voice may have been supplied by Brian Cummings, who also lent his voice in other Hanna-Barbera cartoons. In 2 Stupid Dogs, his voice sounds like Captain Smokey. Cummings also served as the announcer on the game show The All-New Let's Make a Deal during its first season in 1984-85. Like Captain Smokey, Cummings also had a thick mustache.
The riverboat bearing the name "Mississippi Queen" in this short may be a callback to the film General Spanky  which also involved a Mississippi riverboat.
The homemade car in this short was not driven by Pete (Pete was in the back seat).  It is unknown what runs the car in this case.
After the brake on their homemade car is torn off, the Rascals (except for Darla) use their 'emergency brake' (their feet). This may be a callback to Hi'-Neighbor!.
In one scene, as Spanky was testing the boat's whistle, a live spider landed on Alfalfa's nose while he inspected the whistle and had a cross-eyed look.  This may be a callback to Night 'N' Gales.
In another scene, after Darla blows the boat's whistle, she is shown wearing white socks with pink shoes, the inverse of her usual color scheme.
Later rebroadcast on November 26, 1983, during the second season of the series.
Not to be confused with Captain Spanky's Show Boat.
Sequence
---
Community content is available under
CC-BY-SA
unless otherwise noted.