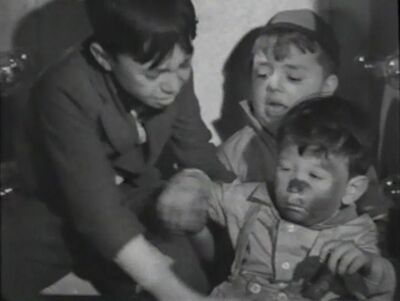 Production Notes
Length: One Reel
Producer: Hal Roach
Director: Gordon Douglas
Photography: Art Lloyd
Editor: William Ziegler
Titles:
Writer:
Released: February 12, 1938
Studio: M-G-M

Main Cast
Supporting Cast
Wilma Cox - Spanky's Mother
The Short
Plot: Spanky and Alfalfa have made plans to skip school to go fishing. To carry out this plot, Alfalfa stays the night at Spanky's house and the next morning, Spanky gives Alfalfa a fake cold with a block of ice on his chest. Mother has no choice but to let Spanky stay home with Alfalfa until Buckwheat shows up at the door with Porky carrying fishing poles and asking if Spanky and Alfalfa are ready to go fishing. She decides to teach them a lesson by leaving Junior behind for them to watch as she goes to do the shopping. With him left behind, the boys are hindered, and before they can figure out what to do, he's crawling into the incinerator and covered with soot. They try to get him cleaned up with Buckwheat climbing into the washing machine to coax Junior if but to get himself trapped in it. The precocious youngster next goes to explore the steam cabinet, crawling out through the top and locking Spanky and Alfalfa inside trying to get him out. In Bugs Bunny-style, he even turns on the heat before wandering away. Mother comes home to this mess to rescue the lot of them, who then are seen grabbing up their books and racing to school.
Quotes:
Notes/Trivia:
The writers of this short seem to have forgotten that Porky has been Spanky's little brother since Little Sinner. They also forgot about Baby Patsy, Spanky's little sister in Little Papa, which this short seems loosely based on.

The exteriors of the house in this short were filmed at an actual home in residential Culver City. George McFarland subsequently revealed this fact to the 1989 owner of the property during a visit.

Sequence
---
Community content is available under
CC-BY-SA
unless otherwise noted.