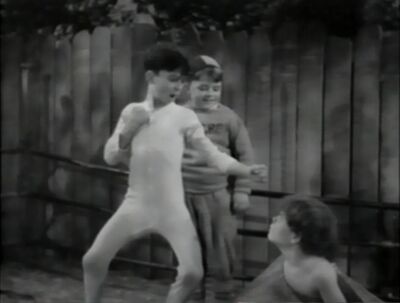 Production Notes
Length: One Reel
Producer: Hal Roach
Director: Gordon Douglas
Photography: Art Lloyd
Editor: William Ziegler
Titles:
Writer: Hal Roach
Released: April 16, 1938
Studio: M-G-M

Main Cast
Supporting Cast
The Short
Plot: Since the events of Glove Taps, Spanky has been promoting Alfalfa in wrestling as "Wildcat Alfalfa." His fight against "The Masked Marvel" is a fixed fight as long as they can get someone Alfalfa can whip in a fight. Spanky's little brother, Porky, is a sure defeat except for the fact the youngster lays Alfalfa out in seconds. Evetually, the identity for "The Masked Marvel" is decided to be clumsy and bookish Waldo. Sure he'll win the fight, Alfalfa does some boasting to Darla, but he's overheard by Butch, his rival for her attention. After she has mocked his appearance in a "Little Lord Fauntleroy" outfit, Butch investigates and takes Waldo's place in "The Masked Marvel" costume, his identity hidden by a mask. Alfalfa is now clearly out of control, and when Waldo turns up at ringside, he peels off the mask of his opponent to his surprise and everyone else's. It's going to be a real fight unless Buckwheat and Porky can save the day. They head under the ring to pull Alfalfa to safety, instead snagging the "The Masked Marvel" costume and dragging Butch under the mat where it comes completely off! Cowering and embarrassed, he's forced to concede the fight to Alfalfa who now notices fickle Darla leaving with Waldo for a very bitter victory.
Quotes:
Notes/Trivia:
Sequence
---
Community content is available under
CC-BY-SA
unless otherwise noted.