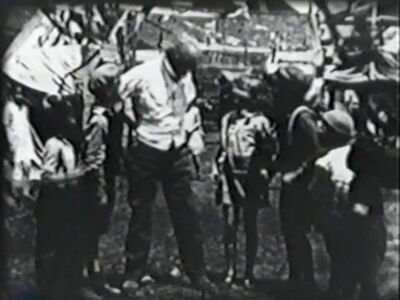 Production Details
Length: Two Reel
Producer: Hal Roach
Director: Robert F. McGowan
Photography: Art Lloyd
Editor: Richard Currier
Titles: H. M. Walker
Writer: Hal Roach
Released: July 26, 1925
Studio: Pathe Exchange

Main Cast
Supporting Cast
The Short
Plot: The gang has big plans to create an amusement park of their own, but when a surveyor shows up, he lets them know that the property has been sold to build a factory. The Rascals go to talk to the owner of the property and discover that he is a big kid himself. After listening to them, he walks out of a board meeting to help them set up their amusement park. His disgruntled board of directors follows with plans to vote him out of position, but they actually get drafted in helping run the park. In the end, the owner and board president offers to let them keep the company in order that he can stay young at heart. At the same time, Farina scares everyone away from the amusement park with a skunk.
Quotes:
"An' now this big surviver comes along an' wants to survive our lot for a factory." - Mickey

"- You just follow my spessyfications - We'll have a place better'n Coney Island!" - Mickey

"Let's put all them silk hats to work - The exercise will do 'em good." - Henry Mills

Notes/Trivia:
Sequence
---
Community content is available under
CC-BY-SA
unless otherwise noted.