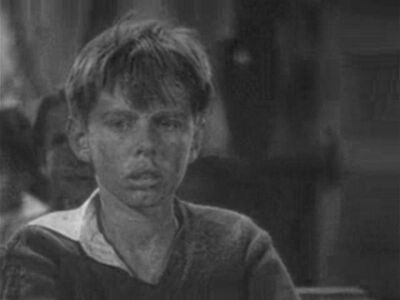 Profile
Name: Clifton Robert "Bobby" (Young) (Smith)
Nickname: Bonedust
Played By: Robert Young
Born:
Relatives: Robert "Tunney" and Richard "Coolidge" Smith (brothers)
Clubs: Royle Secret Order Of Lion-Harted Nights, Manhattan Club
First Short: Better Movies
Last Short: Little Daddy

Character
Bio: Bonedust Young was one of the more peripheral members of the gang. He was a bit more than the tag-along kid, but he was just below the regular kids in the group leading the rest. If anything, he seems to have been the comic relief for the others, losing his britches in War Feathers, forced to bark like a dog by a bully in Telling Whoppers, butted by a goat in Ten Years Old, and getting his finger stuck in a bowling ball in Tired Business Men. He also works as a curtain puller in Mickey's barn when they perform Uncle Tom's Cabin and provides the music at a wedding in Thundering Fleas. He is also part of Joe Cobb's fire-fighting team in The Fourth Alarm!, getting his britches caught on a nail and getting pulled by Joe's fire truck.
Bonedust has two twin brothers named "Tunney" and "Coolidge" in Baby Brother, the two of them identified apart from each other by a pickle. At least one of the brothers' real name is Robert, just like the actor portraying his older brother.
Bonedust leaves town for a while, but he finally pops up again for his most famous moment at Adams Street Grammar School. In School's Out, he takes his homework answers from The Minstrel And Blackface Joke Book, and sells copies to practically every kid in class for what turns out to be a very frustrating history lesson. He's a bit intimidated by regular kid, Jackie Cooper in Helping Grandma, but he takes on a role of leadership to protect Stymie against the social worker in Little Daddy. After that, nothing more is known about this member of the gang.
It's not known where Bonedust gets his innocuous nickname, but most adults like Miss Crabtree and Grandma Mack just call him "Robert."
Quotes:
Notes/Trivia
---
Community content is available under
CC-BY-SA
unless otherwise noted.