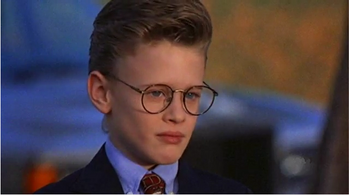 Biography
Character: Waldo
Birthday: March 27, 1985
Place of Birth: Los Angeles, California
Date of Death:
Place of Death:
First Short: The Little Rascals
Last Short: The Little Rascals
Number of Shorts: 1
History: Blake McIver Ewing is a Los Angeles child actor who re-interpreted the role of Waldo from the shy, bespectacled reader of poetry by Darwood Kaye to a more pompous and arrogant spoiled rich kid similar to Cousin Percy in High Society or Jerry Tucker in Hi'-Neighbor!. He had a recurring role on the TV Series "Full House" with Mary Kate and Ashley Olsen who both had cameos in The Little Rascals. He also sings, having co-written and performed the song "Along the River" for the movie, "End Of The Spear." He recieved an Ovation Award Nominee for his role in the Los Angeles Production, "Ragtime."

List of Shorts
Other Projects
Full House (TV series) (1992-1995)
Home Improvement (TV series) (1993)
The Nanny (TV series) (1993)
Calendar Girl (1993)
Gordy (1995)
Tom And Huck (1995)
Minor Adjustments (TV series) (1995-1996)
Problem Child 3: Junior in Love (1995)
Clueless (TV series) (1997)
Tarzan (1999)
Recess (TV series) (1997-2000)
The Little Mermaid II: Return to the Sea (2000)
The Drew Carey Show (TV series) (2000)
Hey Arnold! (TV series) (2001-2003)
Rocket Power (TV series) (2002)
Hey Arnold! The Movie (2002)
Raising Helen (2004)
---
Community content is available under
CC-BY-SA
unless otherwise noted.