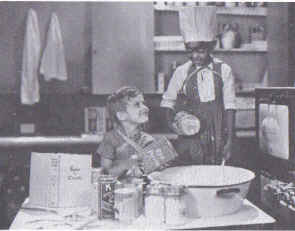 Production Notes
Length: Two Reels
Producer: Robert F. McGowan
Director: Robert F. McGowan
Photography: Art Lloyd
Editor: Richard Currier
Titles: None
Writer: Unrevealed
Released: November 12, 1932
Studio: M-G-M

Main Cast
Supporting Cast
The Short
Plot: Dickie and Spanky's witness their father forgetting their mother's birthday for the second year in a row. He also refuses to pay for a dress she ordered through the mail. Dickie decides to buy his mother a different dress, earning the money for it by baking a large cake and charging their friends to come get prizes. Stymie helps Dickie to bake it, dropping the prizes into the batter before baking, but Spanky tosses in a few other surprises as well, like a mousetrap, old shoe and a scrub brush. The baking process is an amusement as they try to understand the baking instructions, and the resulting square monstrosity is a breathing pastry that makes noises as they ice it. When Stymie cuts into it, he gets hit with a breath of flour. The kids don't like the "prizes" and demand their money back, starting a pie fight just as Dickie's father comes home to chase them all away. He gives Dickie a spanking for the mess just as mother comes home and learns the reason for the mess, humbling father in the process. The next day, she wears her son's dress to church along with the wobbly shoes the salesman tossed in for nothing.
Quotes:
Notes/Trivia:
Sequence
---
Community content is available under
CC-BY-SA
unless otherwise noted.