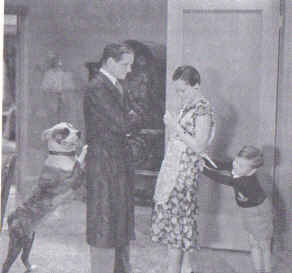 Length: Two Reel
Producer: Hal Roach and Robert F. McGowan
Director: Robert F. McGowan
Photography: Art Lloyd
Editor: Richard Currier
Titles:
Writer: Hal Roach and H.M. Walker
Released: August 29, 1931
Studio: M-G-M

Main Cast
Supporting Cast
Ann Christy - Wheezer's Mother
Creighton Hale - Wheezer's Father
Gordon Douglas - Orderly
Johnnie Mae Beard - Stymie's Mother
Wilfred Lucas - Doctor
The Short
Plot: Wheezer loves Pete. The two of them romp and play around the house, but things are not well. Wheezer's parents are squabbling and could be heading to divorce. After making an effort to stop the fighting, he turns to to his old friend Stymie for advice. Together the two conspire for Wheezer to get sick and bring them together to get him better. Stymie feeds Wheezer some lard and soap among other stuff and Wheezer does indeed get sick. Wheezer asks Stymie and Dorothy to find some medicine in the medicine cabinet in order to cure Wheezer. Stymie's mother calls the doctor, thinking that Wheezer swallowed a bottle of poison from the cabinet. At the hospital, Wheezer turns out to be okay, and he explains to his parents as to why he attempted to get sick. Realizing what they've done, the parents agree to never fight again.
Quotes:
Notes/Trivia:
Gordon Douglas who plays the orderly would go on to succeed Gus Meins as the Our Gang director.

Matthew Beard's real mother plays his mother in the short.
This short marks the first appearance of Sherwood Bailey.
Removed from the Little Rascals television package in 1971 due to the short's plot involving the issue of divorce, as well as the involvement of the medicine cabinet towards the end of the short. It was felt that both of these parts of the short would be bad for children to see. According to Hal Roach, when the short was being produced, he felt the medicine cabinet shouldn't be included for the same reason.

Sequence
---
Community content is available under
CC-BY-SA
unless otherwise noted.