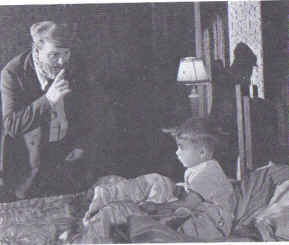 Production Notes
Length: Two Reel
Producer: Robert F. McGowan
Director: Robert F. McGowan
Photography: Hap Depew
Editor: William Terhune
Titles: None
Writer: Unrevealed
Released: September 9, 1933
Studio: M-G-M

Main Cast
Supporting Cast
Billy Bletcher - Radio Voice
Emerson Treacy - Spanky's Father
David Sharpe - Spanky's Mother Stunt Double
Frank Terry - Radio Voice
Gay Seabrook - Spanky's Mother
Harry Bernard - The Burglar aka "Santa Claus"
Lee Phelps - Police Officer
The Short
Plot: His big brother, Dickie Moore, is away, and Spanky is going to be sleeping alone for the first time. Dad comes home to dinner announcing that he has made a promotion to shipping clerk manager, which promotes a comedy of misunderstanding and a battle of words between father and son. That night, Spanky is understandably nervous to be sleeping alone, but Dad wants him to tough it out and get used to it. Spanky keeps delaying with tactics like getting a drink of water, if but to wet his whistle. Later, when a burglar enters the house, the nocturnal prowler identifies himself to Spanky as "Santa Claus," and he takes the masked miscreant at his word. However, as the felon is ransacking the house for the silverware, the gang comes around and the commotion rouses Spank's father from his sleep. He ends up in a tussle with the burglar, and Spanky trying to help flings a vase that instead knocks out his own dad. That leaves the gang to handle things just as the police arrive to secure the scene and slap the handcuffs on the crook. As the police are leading "Santa Claus" away, he confesses he's going to jail. Spanky promises to come up and see him there
Quotes:
"I'll come up and see you sometime." - Spanky (Repeated in Washee Ironee, a reference to one of Mae West's oft-quoted film come-ons)

"Well, if you gotta ship clerks, you gotta ship them someplace, don't you?" - Spanky

Notes/Trivia:
This was the first short to feature Spanky as the main character after he had served as a sidekick for several earlier characters.

The name of Emerson's boss, J.W. Burns, on his letter of promotion, is an homage to J. W. Burns, the manager of the transportation department at Hal Roach Studios.

Emerson Treacy and Gay Seabrook were a popular vaudeville and radio team.

David Sharpe also did the stunt work for Margaret Mann in Fly My Kite.

Sequence
---
Community content is available under
CC-BY-SA
unless otherwise noted.