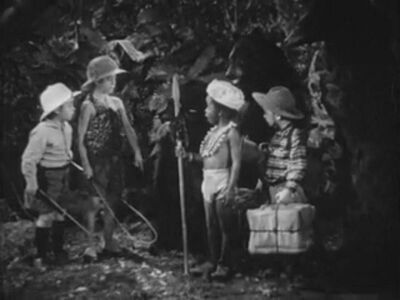 Production Notes
Length: Two Reel
Producer: Hal Roach
Director: Gordon Douglas
Photography: Art Lloyd
Editor: William Ziegler
Titles: No titles
Writer: Hal Roach
Released: March 5, 1938
Studio: M-G-M

Main Cast
Supporting Cast
Al Pilario - Expressman
Cooper Smith - Bear
Ed Brandenberg - Bear
Jack Baxley - Expressman
Jack Pepper - Darla's father
Wilbur Pike - Bear
The Short
Plot: Spanky and Alfalfa have decided that seems to be nothing to do in town except play checkers. Buckwheat and Porky are so bored that they can't help but watch them. To this situation Darla moves to town. Her father owns a circus and the boys rush to be friends with her and her father. At the Hood Residence, Alfalfa weaves a wild tale of being an intrepid hunter with the power to hypnotize bears. The story even surprises Buckwheat, Porky, and Spanky who apparently even lived it. Darla's father is impressed; he's willing to give the boys jobs in his circus, but first he wants Alfalfa to give a demonstration. With his daughter's help, he leaves the room, puts on a bear costume and returns with her. Stepping up, Alfalfa tries to live up to his wild tale and trying to get the "bear" to dance, but a few fierce roars and he and the gang are rushing from the house back to their club house for more checkers.
Quotes:
"I don't think they'll want to run away with any circus when we get through with them." - Darla

Notes/Trivia:
Sequence
---
Community content is available under
CC-BY-SA
unless otherwise noted.