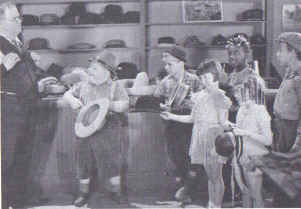 Production Notes
Length: Two Reel
Producer: Robert F. McGowan
Director: Robert F. McGowan
Photography: Art Lloyd
Editor: Richard Currier
Titles: None
Writer: Robert F. McGowan
Released: May 2, 1931
Studio: M-G-M

Main Cast
Supporting Cast
The Short
Plot: Jackie and the gang want to play baseball, but they can't find any of their gear. Jackie suspects his stepbrother, Wheezer, is on a selling spree of his possessions for money, and he's right. Wheezer and Stymie have the stolen merchandise in a wagon and are peddling it door-to-door. They eventually reach the home of lonely little rich girl Shirley Jean Rickert, whose mother leaves her alone to head to Watt Street and whose father forgets to come home. She's so desperate for company that when Wheezer and Stymie reach her home, she invites them in to play in her mansion. Eventually, the gang catches up with Wheezer and enter the place looking for him. Chubby discovers a reducing cabinet and tries it out, but before long, the baby that Wheezer and Stymie had been pushing along in their wagon has triggered the burglar alarm, and a police squad rushes to the scene to round up the kids. Chubby starts screaming for help. About the only thing that he has been able to shrink is his clothing and hat.
Quotes:
Notes/Trivia:
Sequence
---
Community content is available under
CC-BY-SA
unless otherwise noted.