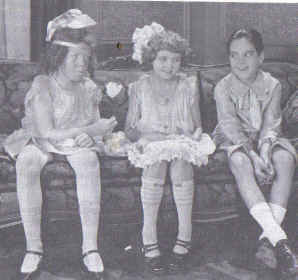 Length: Two Reel
Producer: Hal Roach
Director: Robert F. McGowan
Photography: Art Lloyd
Editor: Richard Currier
Titles: H. M. Walker
Writer: Hal Roach
Released: April 25, 1926
Studio: Pathe Exchange

Main Cast
Supporting Cast
Charlie Hall - Bell Boy
Charlotte Mineau - Mrs. Weedle
Ed Brandenberg - Bell Boy
Fay Holderness - Midget's Guardian
Harry Earles - Midget
Helen Gilmore - Joe's Mother
Lee Phelps - Joke Teller's Friend
Martha Sleeper - Leggy Lady
Rolfe Sedan - Joke-Teller
Stanley Sandford - House Detective
William A. Orlamond - Rich Uncle
William Gillespie - William Weedle
The Short
Plot: A couple has been decieving their uncle to collect $50 to support two non-existent children, but now, he's coming to visit and meet these kids he's been helping to support. They must come up with two kids to continue the deception. Meanwhile, Joe Cobb has been fighting a lot, so his mother puts him in baby clothes to teach him a lesson. The couple latches on to him to play their son. The lady also puts Mickey in a dress and curls to play their daughter. Lurking around the couple's hotel room is a midget who decides to get into the mischief, so when the uncle comes to meet the children, he finds three kids instead of two. Joe soon gets bored and Jackie replaces him, expecting no one to tell the difference. Just as things can't get too much more confused, Farina shows up to pass himself off as another baby brother! By now, the jig is up, and the uncle is furious. The couple and the Rascals make a run for it only to discover Joe around the corner in another fight for wearing baby clothes.
Quotes:
"- That fifty dollars is for the two children we haven't got - Wait 'til he learns the truth -" - Mr. Weedle

Sequence
---
Community content is available under
CC-BY-SA
unless otherwise noted.