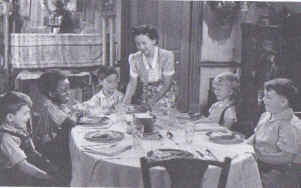 Production Notes
Length: One Reel
Producer: Metro-Goldwyn-Mayer
Director: Edward Cahn
Photography: Jackson Rose
Editor: Leon Bourgeau
Titles:
Writer: Robert A. McGowan and Hal Law
Released: February 15, 1941
Studio: M-G-M

Main Cast
Supporting Cast
The Short
Plot: Mickey's mother is expecting another child, and the kids are fending for themselves and fighting over strawberry shortcake as breakfast. It's up to their stepfather to keep the peace. As Mickey sits down to read, he discovers a statistic that says every fourth child is Chinese and takes it literally. This is obviously distressing, but Spanky calms him by introducing him to Lee Wong, a Chinese friend of his whom the gang has never met. Lee's father presses the shirts of Spanky's father, and the gang arrives to chase off Bully, Boxcar Smith, and their bunch harassing Lee. Lee's mother is so appreciative of Spanky protecting Lee that she invites the gang to have lunch with him. Mickey realizes there is nothing wrong with being Chinese. By time he gets home, Mickey and the rest of the gang think Chinese lunch means bird nests and rat tails, but instead it's a lunch of ham and eggs. With his new respect for the Chinese people, Mickey heads home and learns his mother has gone into labor, and the news isn't good. She has given birth to twins, and they're both girls!!!
Quotes:
Notes/Trivia:
Sequence
---
Community content is available under
CC-BY-SA
unless otherwise noted.