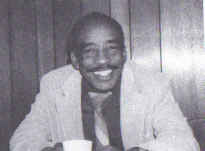 Biography
Character: Farina Hoskins
Birthday: August 9, 1920
Place of Birth: Boston, Masachusetts
Date of Death: July 26, 1980
Place of Death: Oakland, California
First Short: Fire Fighters
Last Short: Fly My Kite
Number of Shorts: 105 (more than any other Little Rascal)
History: Allen Clayton Hoskins Jr. was one of the two most popular Rascals in the Silent Films along with Joseph Cobb. He was discovered at two years of age by Ernie Morrison and his father in the Watts District of Los Angeles, the two of them becoming partners in the Our Gang series. Hoskins was nick-named after a breakfast cereal. Hal Roach called him "one of the finest natural actors" in the series.
Allen went on to work in all but two of the silent films and two seasons of talkies, lasting long after Ernie left the series, but before long, even Allen started showing signs of no longer being a child star. At the time, he was earning $350 a week, much more than the traditional $40 a week for the rest of his co-stars. He had been the main star for much longer than any other character in Our Gang and his departure left a vacuum that would not be filled until Spanky came along to fill the void. His last role as a Rascal would be in Fly My Kite, but reappeared out of the series in The Stolen Jools, a promotional stunt featuring brief appearances by over fifty stars including the current Our Gang members. His sister, Jannie Hoskins, appeared in more than twenty shorts with him.
In 1932, Allen emceed a Voice of Hollywood short in 1932 and co-starred in "You Said a Mouthful" with Joe E. Brown and "The Mayor of Hell" with James Cagney. He briefly returned to Our Gang for a cameo Fish Hooky in 1933. Working in Vaudeville, Allen showed up for several Our Gang reunions, but it was not until he joined the Army that he finally grew his mustache. After the war, he tried to get a part in the Amos And Andy series and later majored in drama at Los Angeles City College.
Feeling he had to eat regularly, Allen became a licensed psychological technician in San Francisco. He dropped out of sight for a semblance of a normal life, but in 1975, he became an inductee into The Black Filmmaker's Hall of Fame. In 1980, shortly before he was to appear in an Our Gang reunion in Hollywood, he quietly passed away from cancer. He was survived by his two children and his sister, Jannie Hoskins, who had starred in Our Gang with him and had since become a postal worker in Northern California. She passed away in 1996.

List of Shorts
Other Projects
---
Community content is available under
CC-BY-SA
unless otherwise noted.