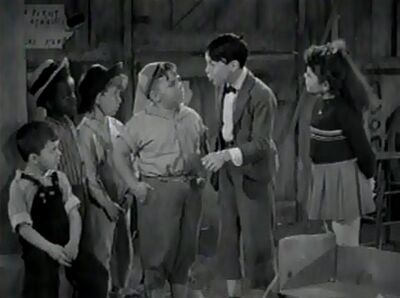 Production Notes
Length: One Reel
Producer: Jack Chertok and Richard Goldstone
Director: Edward Cahn
Photography: Clyde DeVinna
Editor: Adrienne Fazan
Titles:
Writer: Robert A. McGowan and Hal Law
Released: March 30, 1940
Studio: M-G-M

Main Cast
Supporting Cast
The Short
Plot: Mickey Gubitosi's parents have been fighting. After roast beef every Sunday, his mother makes hash from the leftovers for Monday night. Although Mickey's father loved her coffee in Dad For A Day, it turns out he hates her hash, and their fighting is bothering Mickey. The gang gets the idea to get themselves invited to Mickey's house so they can eat up all the roast beef, leaving no leftovers for hash the next day. To make up for this, Alfalfa invites Mickey's parents to have dinner with Alfalfa's parents the next day, knowing that the Switzers always listen to a particular radio station at 7:00 pm on Mondays. This dinner also turns out to be hash. The gang turns the tables by using their fight as material for a skit over the radio as an entry to a contest. After Mickey's parents hear how ridiculous they sound to others, they decide to stop the fighting and find a solution.
Quotes:
"I've got sort of a headache - down here." - Mickey Gubitosi (pointing to his heart)

Notes/Trivia:
This was the first appearance for Janet Burston in Our Gang; she'd go on to replace Darla Jean Hood after Wedding Worries. In this short, she plays a character who sings in the radio contest, a separate character from her later Our Gang character.

Sequence
---
Community content is available under
CC-BY-SA
unless otherwise noted.