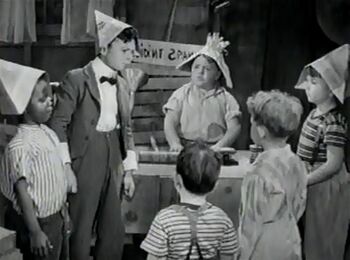 Bio
The All-4-One Club is the successor club to the Eagles Club. It has gone through several varying guises and name variations, but its basic intention is to keep the spirit of the gang's bond of friendship together. Spanky McFarland and Alfalfa Switzer seem to have founded this "no incentive" club, basing it on the credo of "The Three Musketeers," but it is Cousin Wilbur who converts the club to include accident insurance policies against bullies until Butch tries to put them out of business. As a counter to the group, Butch later forms a loan-shark operation. Based in Spanky's old barn, the club doubles as a kiddie acting troupe. Among the things they carry on are putting on shows to endorse Waldo's lemonade, teach Mickey's parents a lesson, and save Alfalfa from his "murderous" Aunt Penelope. Spanky and Alfalfa are followed by Mickey as club president, who expands the club's name to the "All-For-One-And-One-For-All Club," and despite a vigorous election with Froggy Laughlin, he's replaced by Janet Burston.
Although the club was not featured, in the 1982 animated episode "Cap'n Spanky's Showboat", the chant "One for all, and all for one" was uttered by the Rascals.
It is unknown if the club's name may have inspired the name of the rhythm and blues group All-4-One, famous for their 1994 song "I Swear."
Roll Call: Alfalfa Switzer, Bobby Anderson, Bobby Browning, Bobby Ferrero, Buckwheat Thomas, Buz Buckley, Cousin Wilbur, Darla Hood, David Polonsky, Dickie Hall, Frank Ward, Freddie Chapman, Froggy Laughlin, Happy Laughlin, Jackie Horner, Jackie Solling, Janet Burston, Joline Karol, Junior, Leonard Landy, Marilyn, Marlene Mains, Mickey Gubitosi, Payne Johnson, Philip Hurlic, Porky, Slim, Spanky McFarland, Tommie, Tommy Tucker, Waldo.
Shorts
---
Community content is available under
CC-BY-SA
unless otherwise noted.