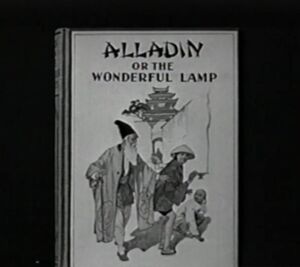 Bio
Aladdin And The Magic Lamp is a Fifth Century story from the Far East with vague origins from the book, A Thousand And One Arabian Tales. It tells the tale of a young boy who gets several wishes from a spirit called a jinni in a magic lamp. It's retitled "Alladin Or The Wonderful Lamp" in a book read by Dickie Moore. He later encourages the gang to go in search for the lamp in A Lad An' A Lamp, but they instead encounter a kind and playful stage magician trying to preserve their innocence. Mary Wade seems to find the real lamp in the weeds and bushes of her family estate outside Greenpoint in Shrimps For A Day. Spanky McFarland later puts on the story of Aladdin as a play in Aladdin's Lantern. Alfalfa Switzer plays Aladdin, Spanky is the Caliph, Darla Hood is his daughter and Billy Mindy is the jinni.

"Jinni" is the correct Arabian spelling of "genie," as it is known in Western spelling. In Persian lore, it is referenced as "djinni" and plural as "the jinn."

Shorts
---
Community content is available under
CC-BY-SA
unless otherwise noted.