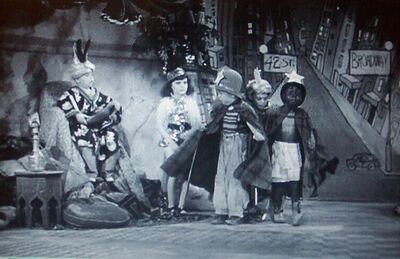 Production Notes
Length: One Reel
Producer: Jack Chertok
Director: Gordon Douglas
Photography: Robert Pittack
Editor:
Titles:
Writer: Robert A. McGowan and Hal Law
Released: September 13, 1938
Studio: M-G-M

Main Cast
Supporting Cast
The Short
Plot: Spanky McFarland and the gang are staging a play about Aladdin, but all Buckwheat and Porky want to do in it is sing and dance to the tune of "Strolling Through The Park One Day." Alfalfa plays Aladdin showing his magic lamp to Spanky, playing the caliph, who calls upon dancers led by Darla to the tune of "Your Broadway Or Mine." Spanky orders the genie to disappear with all the dancers except Darla, and then orders the palace guards, Buckwheat and Porky, to drag Alfalfa away, but instead they continue their soft-shoe act. Darla is so embarrassed that she quits and Spanky steps in to fill her role for a magic carpet scene to the tune of "I'll Take You Home Again, Darleen." During the scene, someone's pet monkey pulls the pulleys controlling the carpet and takes it over a burning candle which sets Alfalfa on fire. Hysterical, Spanky screams at Buckwheat and Porky to do something and they do, running out on stage to do their act...
Quotes:
Notes/Trivia:
This was the first short for George McFarland after a five-short absence.

This was also the last short for director Gordon Douglas in the series. He would leave M-G-M to remain at Hal Roach Studios. Afterward, he commented he didn't like the new "adult" direction the studio was taking the series.

This was the second short based on the Aladdin story, the other being A Lad An' A Lamp.

Sequence
---
Community content is available under
CC-BY-SA
unless otherwise noted.