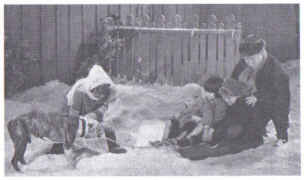 Length: Two Reel
Producer: Robert F. McGowan
Director: Robert F. McGowan
Photography: Art Lloyd
Editor: Richard Currier
Titles: None
Writer: Robert F. McGowan
Released: June 21, 1930
Studio: M-G-M

Main Cast
Beverly Parrish
Tommy Adkins
Werner Weidler
Wolgang Weidler
Supporting Cast
Lyle Tayo - Radio Announcer
Stepin Fetchit - Himself
The Short
Plot: One cold wintry day, the gang helps Stepin Fetchit read a love letter on the radio. Fetchit claims he can't read it because he learned to read in night school and can't read anything during the day. However, he doesn't want Farina to hear what the letter is about, so he puts cotton in the boy's ears. Meanwhile, he tries to help them clean up the results of a taffy disaster, the result of Wheezer calling out the wrong ingredients.
Quotes:
Notes/Trivia:
Apparently, Robert F.McGowan wasn't bothered by the fact that it never snows in Los Angeles. As mentioned in the Notes for The Big Town, the majority of the shorts placed the Rascals hometown, later dubbed Greenpoint in Going To Press, as being in California. However, a minority of shorts, like this one, seem to place it as a suburb of Elmira, New York, the hometown of Hal Roach.

This short was used as a vehicle for a planned comedy series around Stepin Fetchit, a black comic known as the racial sterotype in film. As a result, this short is not included in any of the TV packages being run on television. However, the film was shown on television until 1971, when King World officially dropped it.

This short was renamed "Temps d' Hiver" and "Winter Wetter" for foreign audiences. The French version was recently found in an archive. In this version, some of Mary Ann Jackson's lines were given to Beverly Parrish, who was evidently more familiar with the French language.

Sequence
---
Community content is available under
CC-BY-SA
unless otherwise noted.