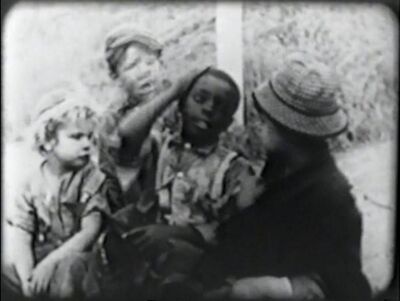 Production Notes
Length: Two Reel
Producer: Hal Roach
Director: Robert F. McGowan and Tom McNamara
Photography:
Editor:
Titles: H. M. Walker
Writer: Hal Roach
Released: December 31, 1922
Studio: Pathe Exchange

Main Cast
Supporting Cast
The Short
Plot: There's a new kid in the neighborhood, the son of a police officer. The gang decide to beat him up. At that time, the police are closing in on "Red Mike," a local criminal. The gang thinks the police sirens are for them and they scatter out of fear, but wherever they go, they seem cornered by the police looking for Mike. The gang takes refuge in an old house where Mike also happens to be hiding out, and he's not happy to have been discovered by a bunch of kids. He chases them out with gunfire, but their dog turns the tables and chases him all over town, eventually right into the hands of the police.
Quotes:
Notes/Trivia:
This short was filmed almost entirely on location in Los Angeles around streets, businesses and buildings that no longer exist. One location, the long winding staircase, also used by Laurel and Hardy in "The Music Box," still exists, but is barely recognizable with the current residences built against it.

Jack and Mickey take a similar approach in pulling Mickey's tooth out like Farina and Joe do in Noisy Noises.

Allen Hoskins does not appear in this short.

Sequence
---
Community content is available under
CC-BY-SA
unless otherwise noted.