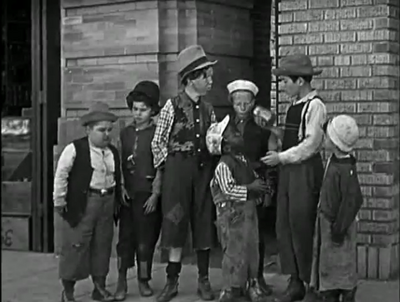 Production Notes
Series: Glenn Tryon Series
Length: Two Reels
Producer: Hal Roach
Director: Fred Guiol
Photography:
Editor:
Titles: H.M. Walker
Writer: Hal Roach
Released: December 26, 1926
Studio: Pathé Exchange

Rascals
Main Cast
Glenn Tryon - Orville
Charlotte Mineau - Orville's mother
Rube Clifford - Orville's father
Sally O'Neil - Orville's sister
Oliver Hardy - Hotel detective
Edna Murphy - Em, hotel detective's wife
Jerry Mandy - Imbibing Trashman
Al Hallett - Minor role
Claude Gillingwater - Old man in hotel bed
Ed Brandenberg - Hotel guest
The Hal Roach Bathing Beauties - Themselves
Ham Kinsey - Hotel guest
Jack Hill - Hotel guest
Janet Gaynor - Hotel guest
Monte Collins - Hotel guest
Stan Laurel Starving actor - hotel guest
Theda Bara - Herself
Tiny Sandford - Train conductor
The Short
Plot: Orville (Glenn Tryon) and his California family must make an immediate payment on their home or else be thrown out. Orville, along with his sister (Sally O'Neil) and grandfather go to make the payment in Hollywood, anxiously hoping to see some movie stars along the way. Orville's grandfather misses the train to Hollywood, leaving Orville and his sister to travel alone. Once in Hollywood, Orville rushes into the action of a bank robbery, mistakenly thinking that it is actually the filming of a scene for a movie. Orville is taken hostage by one of the robbers, who dresses him up like a woman and abandons him in the room of a hotel detective (Oliver Hardy)
During the Hollywood tour scene, a few Hollywood players make cameos (via stock footage from other films). Rascals Jackie Condon, Farina Hoskins, Mickey Daniels, Joe Cobb, Johnny Downs, Jay R. Smith, and Skooter Lowry appear in a brief clip almost identical to a scene used in Thundering Fleas.

Quotes:
Note/Trivia:
Stan Laurel and Oliver Hardy appear in the same film for the second time (the first being in a 1921 independent short The Lucky Dog). However, they share no scenes together. Additionally, Laurel wears a false moustache in this film (similar to the one frequently worn by James Finlayson. It would be at least another year before Laurel and Hardy officially became a comedy team.

Sequence
---
Community content is available under
CC-BY-SA
unless otherwise noted.