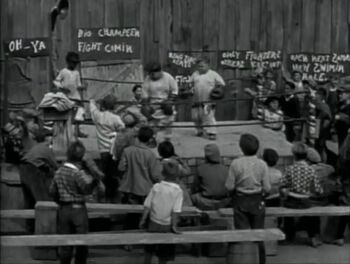 Bio
The 3rd Ward Athaletic Club is a boxing organization which could be considered to be the successor of the 4th Ave. Athalatick Club and the predecessor of the Ajax Athaletic Club. Farina and Harry are the promotors. When a match between youngsters Wheezer and Donnie leaves the spectators demanding their money back, Harry challenges Farina to find a better matchup. Soon they see Joe and Chubby fighting over Jean Darling, and they arrange an "Extra Speical Heavywate Batle" between the two. The club doesn't admit "ladies" like Mary Annbecause "the sight of blood splashing around makes them faint." In the big fight, Farina serves as announcer and referee, Harry is Joe's trainer, Andy Shuford is Chubby's trainer, Wheezer is the timekeeper, Jackie Cooper the reporter, and Bobby Mallon the announcer. Mary Ann manages to sneak in to see the fight by kidnapping Jackie from ringside. After stealing his clothes, she takes his place as the reporter. Farina tells both Joe and Chubby that the other will lay down in the second round. When neither does, Mary Ann tells Farina to muss up Joe's hair. Farina then tells Chubby that the signal for Joe to lay down was to muss up his hair. When Chubby does, the boys start fighting for real, hitting Farina several times in the process. The fight ends with them knocking each other out in the fifth round, and as Farina announces the drawn decision, he is pelted by a tomato.
Roll call: Andy Shuford, Bobby Mallon, Chubby Chaney, Donnie Smith, Farina, Harry Spear, Mary Ann, Jackie Cooper, Joe Cobb, Wheezer
Shorts
---
Community content is available under
CC-BY-SA
unless otherwise noted.